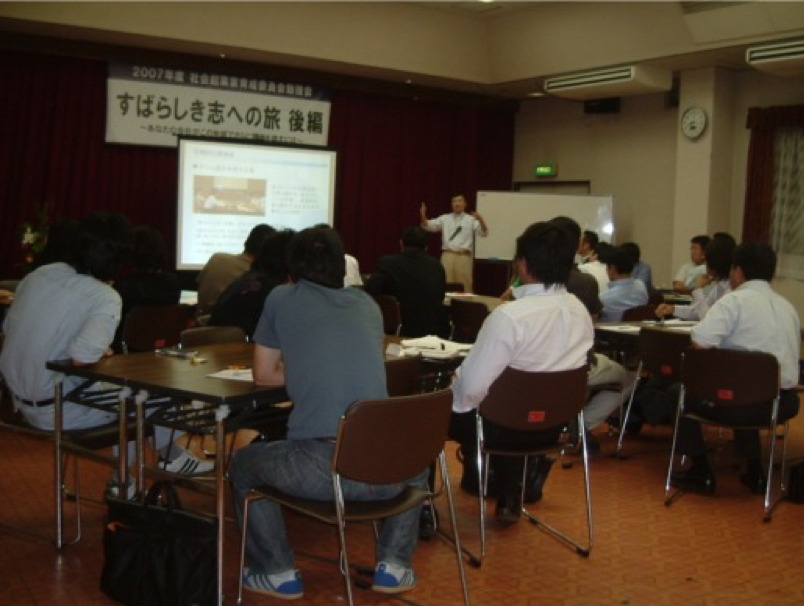 Innovation has implemented a variety of support activities that contribute to leadership development and organizational development in local youth organizations.By providing a solid framework, thinking process, thinking technology, and a place of dialogue, we have encouraged these activities, which tend to end up only in the areas of aspiration, thought, and passion, to turn activities that tend to be results from activities that yield tangible results.

If you would like to be involved with us, please contact us here (info@ennovation.co.jp).

Please see here about our involvement so far.
| | | | | |
| --- | --- | --- | --- | --- |
| 2010 | September 11th and 12th | Niigata JC | Coordination of the October Public Committee | Training camp |
| 2010 | May 28th and 29th | Niigata JC | Coordination for August Proposals | Training camp |
| 2010 | February 16th | Niigata JC Lecture | February meeting, blow away the recession. | Participatory dialogue at the venue |
| 2010 | April 8th | Musashino JC | The moment when a pinch turns into an opportunity | Seminar |
| 2009 | September 14th | Tokyo Block Committee Business | Now is the time to expand the circle in the region. | Panel Discussion |
| 2009 | June 14th | Japan JC Tokyo Block Committee Business | Member Conference Subcommittee Now is the time to move from the local community to the "Youth Conference Center" | Facilitation |
| 2009 | April 25th | Japan JC Tokyo Block Committee Business | Now is the time to become a true "regional leader"  | Seminar |
| 2009 | February 4th | Water fired JC | February Meeting The World of Co-creation | Lecture |
| 2008 | September 30th | Takanezawa YEG | Group Dialog for Achieving The First Growth Cram School | |
| 2008 | September 20th | Toyama JC | Toyama Growth Cram School 1st Group's Opportunity to Achieve Challenges and Realize Self-Realization | |
| 2008 | June 4th | Toyama JC | Aiming to be a proud business person – learning the need for public interest | Lecture |
| 2008 | May 9th | Toyama JC/SEBS Toyama Committee | Facilitator Training Course for Social Entrepreneurs 3rd Course | |
| 2008 | April 23rd | Maoka JC | Growth Cram School | |
| 2008 | April 11th | Toyama JC/SEBS Toyama Committee | Facilitator Training Course for Social Entrepreneurs | |
| 2008 | March 21 | Toyama JC/SEBS Toyama Committee | Facilitator Training Course for Social Entrepreneurs | |
| 2008 | December 16th | Takanezawa YEG | Group Dialogue for Achieving The 4th Growth School Goal | |
| 2008 | November 8th | Toyama JC | Toyama Growth School 3rd Source of Leadership | |
| 2008 | November 18th | Takanezawa YEG | Group Dialogue for Achieving The Third Growth School | |
| 2008 | October 21st | Takanezawa YEG | Group Dialog for Achieving The Second Growth School | |
| 2008 | October 18th | Toyama JC | Toyama Growth Cram School 2nd Group's Opportunity to Achieve Challenges and Realize Self-Realization | |
| 2007 | September 22nd | Saitama Block | Social Entrepreneur Skills Improvement Seminar | Lecture |
| 2007 | September 19th | Maoka JC | Never rebound, clean up practice (Emi) | Lecture |
| 2007 | September 19th | Maoka JC | Journey to wonderful will Practice | Lecture |
| 2007 | September 10th | Mino JC | The first step to a fun self-transformation | Lecture |
| 2007 | August 4th | Maoka JC | Growth Cram School | |
| 2007 | July 18th | Maoka JC | Growth Cram School | |
| 2007 | June 8th | SEBS | Never rebound, clean up practice (Emi) | Lecture |
| 2007 | June 18th | Kitami JC | June Monthly Meeting Entrepreneurship Seminar to Create A Society | Lecture |
| 2007 | June 12th | Maoka JC | The law that can be said good-bye from me who cannot be put away | Lecture |
| 2007 | June 12th | Maoka JC | Journey to a Wonderful Will Part | Lecture |
| 2007 | April 20th | Tokorozawa JC | Stage-up Cram School 1st | Lecture |
| 2007 | April 15th | Saitama Block | Entrepreneurship Seminar to Create Society | Lecture |
| 2007 | December 19th | Maoka JC | Growth Cram School | |
| 2007 | November 18th | SEBS | The law that can be said good-bye from me who cannot be put away | Lecture |
| 2007 | November 14th | Maoka JC | Maoka Meeting | |
| 2007 | November 11th | SEBS | Facilitation Workshop | Workshop |
| 2007 | October 18th | Maoka JC | Growth Cram School | |
| 2006 | July 13th | Water fired JC | Social Entrepreneur Development Project | |
| 2006 | October 27th | Niigata JC | Shinhata JC & Niigata University Collaborative Business Social Business Plan Contest SEED2006 | |
| 2005 | 3 month | SEBS | Product Planning Success Seminar | |
| 2005 | 3 month | Japan JC New Business Club | March Monthly Meeting Thought Process to Improve The Yield Rate of Business Plan | |
| 2005 | February | Niigata JC | February Meeting Get tha issue, How to live as a social entrepreneur | |
| 2005 | 11- | Niigata JC | November Meeting Design2005 Social Business Plan Contest | |
| 2004 | July | SEBS | Process Management Seminar for Sustainable Growth | Seminar |
| 2004 | 5 months | Kitami Chamber of Commerce and Industry, Youth Department | May Meeting Let's self-transform the management quality of the company | Lecture |
| 2004 | 11- | Japan JC New Business Club | Mito Faram Leadership in Innovation | |
| 2003 | September | Hachioji JC | Hachioji Grand Prix Business Seminar ISO9001 Overcoming Seminar for Small and Medium-sized Enterprises ISO Is Not Scary | Seminar |
| 2003 | 11- | Japan JC New Business Club | November Monthly Meeting Evaluation and examination of business based on customer-oriented | |
| 2002 | July | Japan JC | Japan JC Summer Conference Summer Economics Seminar | Seminar |
| 2002 | 5 months | Nagai JC | May Meeting: What we have to do now to keep society from being destroyed | Lecture |